The island of the Countess
Accessible at low tide and located at the foot of the hotel, the Ile de la Comtesse is part of the Saint Quay Portrieux landscape. This little jewel of 3 850 m² covered by greenery invites you to take a stroll with its small paths winding between tamarisk trees, fig trees and other shrubs. It is the ideal place for a family getaway and for playing Robinson Crusoe! From the first climb up the wall, a variety of bluish euphorbia, adapted to the marine environment, sets the tone. Further on, in the centre of the island, a walled area reveals an old building. From up there, there is a superb 360° view of the coast, the beautiful residences, the semaphore, the Ker Moor Préférence Hotel and, on the sea side, in good weather, you can count the islands, the lighthouses and the passing boats.
Bequeathed to the Benedictine monks of Lehon in the 13th century by the Count of Avaugour, Lord of Goëlo, the island would have inherited the title of nobility from his wife. In 1679, a census of the commune's property already indicated the name of "Countess's Island".
After the Revolution, the owners came and went, including the family of Eugène Rimmel, the famous French perfumer exiled in London who invented mascara. The place became a sort of small private botanical conservatory where rare essences and lavender were cultivated for the manufacture of aromatic substances.
It was not until the beginning of the 20th century that the Countess of Calan came in her turn. She and her husband, a senior French official in Morocco, were seduced by the place. Facing the island, they expressed without restraint their pronounced taste for Moorish architecture... as evidenced by the Château de Calan overlooking the hotel, topped by its golden bulb, and its openings with oriental allure. Since 1975, the island has been owned by the commune.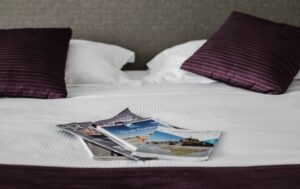 Book in advance and pay less! For any reservation 30 days before the arrival date at least, benefit from a discount of -15% on
Read more "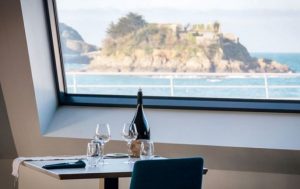 Take advantage of the Ker Moor Préférence Hotel in Saint Quay Portrieux to organise your seminars or study days in a unique environment facing the sea. You
Read more "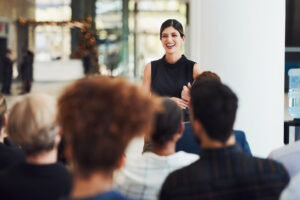 Click here to see the offers: https://www.funbreizh.com/canal/kemsem
Read more "