Charming stopover in Saint Quay Portrieux
An invitation to travel in the superb setting of the Bretagne Nord. Our seaside hotel in Saint Quay Portrieux, with direct access to the sea, opens up a wide range of possibilities: idleness, relaxation, discovery, leisure activities for all the family, sea walks and fishing, water sports, hiking... The magical world of Saint Quay Portrieux opens up to you with its 2 ports, its shellfish activity, its different districts, its 5 beaches, its seawater swimming pool, its coastal path (GR34), its high tides which show you the Breton landscapes in a different light.
First of all, the sea and its activities for young and old: dinghy, windsurfing, catamaran, kayak, diving and snorkelling, kitesurfing, pescatourism, old rigging, mini-cruise in catamaran, cruise to the island of Brehat, the island of Jersey...
High place of fishing and yachting thanks to its deep water port (the first of the Bretagne North), Saint Quay Portrieux is also the capital of the scallop. Notice to all gourmets and gastronomes.
Those who prefer the mainland will be spoilt for choice! On foot, on horseback, by bike or mountain bike (bikes can be hired at the hotel), Saint Quay offers superb walks along the seafront, notably with the GR34 known as the "sentier des douaniers" (customs path), which passes right by the hotel.
After these beautiful walks, a well-deserved break is essential! The beaches of the Casino, the Châtelet, the Grève Noire, the Portrieux, the Comtesse (just next to the hotel), the Fonteny or Isnain beaches are waiting for you...
Golf lovers will not be outdone. Just 10 minutes from the Ker Moor Préférence Hotel, the Ajoncs d'Or Golf Club offers an 18-hole course in an exceptional setting, protected from the sea winds.
Saint Quay Portrieux is a seaside resort that lives all year round. Casino, cinema, mini-golf, tennis, markets, shops, restaurants, discotheques, art galleries, guided tours, creative workshops..., it's impossible to find the time long!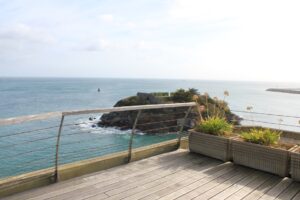 We rent apartments in the heart of Saint Quay Portrieux from Saturday to Saturday and we make you benefit from -12% of
Read more "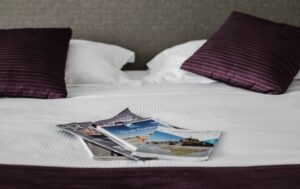 Book in advance and pay less! For any reservation 30 days before the arrival date at least, benefit from a discount of -15% on
Read more "
Click here to see the offers: https://www.funbreizh.com/canal/kemgro
Read more "